ESCAPE-ING TO NEW HEIGHTS
5 min read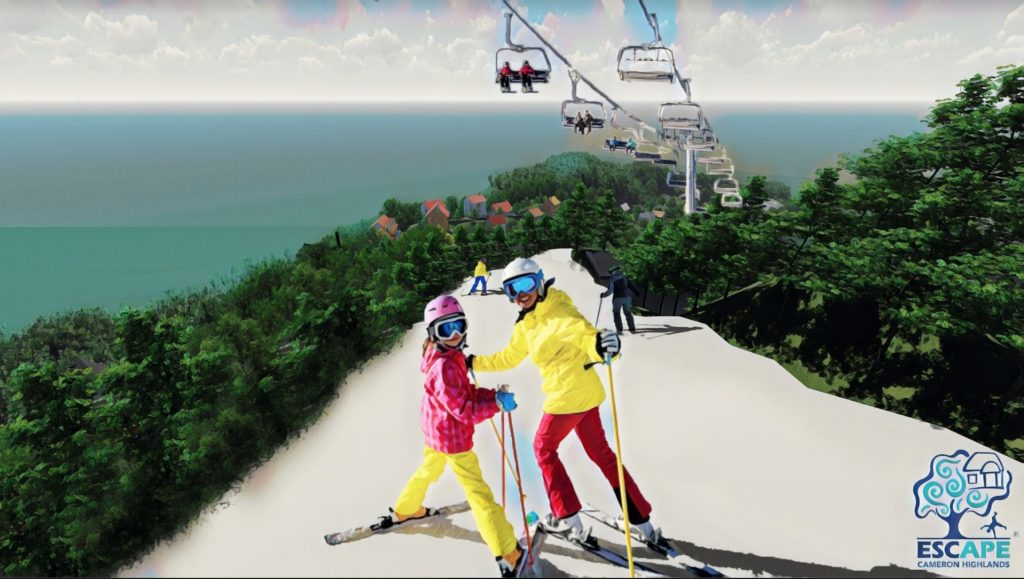 YB Dato' Sri Nancy Shukri commemorates conception of ESCAPE Cameron
Highlands, Malaysia's new retro-eco attraction which measures fun in "smiles per hour"
.
The Minister of Tourism, Arts and Culture, YB Dato' Sri Hajah Nancy
Shukri today commemorated the official announcement and signing ceremony of ESCAPE Cameron Highlands. While being the third addition to the ESCAPE brand of theme parks in the country after ESCAPE Penang and ESCAPE Challenge in Petaling Jaya, ESCAPE Cameron Highlands will be quite unlike any other leisure attraction in the country. Spanning across a 60-acre valley at an elevation of 220 metres, this will be the biggest ESCAPE park in Malaysia. The park will also be the first of its kind in the region to offer an outdoor ski attraction, set within an equatorial climate.
ESCAPE Cameron Highlands will be a nature-based adventure park built into the natural landscape of Cameron Highlands that adopts a low impact development approach in design and execution. The project will also proliferate Cameron Highlands' natural beauty by presenting a renewed tourism boost for one of the country's most popular hill resorts.
Speaking at the virtual ceremony, YB Dato' Sri Hajah Nancy Shukri said, "ESCAPE Cameron Highlands will literally and figuratively be a breath of fresh air, as far as the tourism industry is concerned. This novel destination stands to offer something truly unique: reconnecting us with nature."
"The future of global tourism will be about family fun in the form of wellness. I predict an exponential growth in demand for nature-based tourism worldwide. Malaysia will set itself apart from its regional
neighbours by promoting clean, healthy, family-oriented tourism. We will capitalise on our abundant natural beauty heading towards this new direction."
"ESCAPE Cameron Highlands will do so much more than revitalise Cameron Highlands as a major tourism hub. This timely development will kickstart the revival of Malaysia's domestic tourism industry, as a whole, which has been greatly hit by the Covid-19 pandemic since last year," she added.
Designed and built by the world-renowned Malaysia-born theme park developer Sim Leisure Group, Phase 1 of the project is estimated to take 15 – 18 months to complete with an initial investment of RM15 million. This investment is conservatively expected to exceed RM100 million over subsequent phases, spanning the next 10 years. With its retro-eco concept and unique appeal, ESCAPE Cameron Highlands is expected to draw 200,000 visitors within its first year, and is expected to exceed a million
visitors annually beyond its 5th year.
"Unlike other theme parks, ESCAPE adopts the strategy of development in multiple phases to continuously add the novelty factor by introducing new attractions every year. As such, the project will continuously morph to evolve into something bigger and better, while still retaining the flavour
and ethos for which the ESCAPE brand is known. As the brand presents a new genre of FUN in the industry, we do not rely on our past or even current successes, but constantly innovate, researching new ideas and developing new attractions, to cater to evolving consumer demands. This is key to ESCAPE's evolution in chartering new levels of FUN measured in our own metric of 'smiles per hour' while retaining our philosophy of rediscovering childhood play and reconnecting with the natural environment," said Sim Choo Kheng, Founder of Sim Leisure Group and ESCAPE Theme Parks.
ESCAPE Cameron Highlands combines the essence of the brand's proprietary 'retro-eco' genre of fun with Cameron Highlands' natural topography and environment. The theme park will bring ESCAPE's
Gravityplay and Adventureplay games to new heights, capitalising on the site's overall 220m height difference which was a prime selection factor of the project site.
In addition to ESCAPE's signature downhill rides and adventure-based attractions, the park will showcase the world's first outdoor ski facility in an equatorial setting, featuring a ski lift elevating visitors to the top and a 1.2km dry ski track, which will take skiers through scenic routes, including
local themed villages.
With its temperate climate, ESCAPE Cameron Highlands will be themed into five different European villages at varying elevations – starting with the Iberian village at the bottom, followed by the British, Balkan and Nordic villages moving up, before finally peaking at the Alpine village at the top.
"The conception of these five themed villages leveraged on our expertise in designing and building themed facades across multiple theme parks around the world, including Europe. These themed villages will also feature accommodation and rental offerings, in addition to hosting traditional
European pastimes and activities, which will complement the 'fun factor' of ESCAPE's signature Gravityplay and Adventureplay attractions," said Sim.
Sustainability and maintaining a low carbon footprint are at ESCAPE's core. Unlike conventional amusement parks worldwide, ESCAPE Cameron Highlands will preserve the natural habitat, setting the trend for sustainable theme park development. ESCAPE Cameron Highlands is poised to be an industry game-changer of international standards. Targeting domestic and ASEAN tourists looking to escape the tropical heat to experience something truly different, ESCAPE Cameron Highlands will elevate the themed attraction industry in the country to new heights, allowing visitors to reminisce sweet memories of childhood play in a natural environment, envisioned by Sim himself. The idea for the ESCAPE brand of theme parks was conceived in 1998 when Sim relived his childhood during a visit to the Vietnamese Thu Duc Village, just outside Saigon.
"We were contracted to build and operate a theme park there. I saw how the village kids and adults played the same way I did growing up in the 'kampung' in Penang. I started recollecting my childhood moments and refining those ideas into a theme park of my childhood mischief – one that
would foster self-directed free-range play, catering to an increasingly astute and demanding market of consumers and thrill-seekers."
"The ESCAPE concept in a nutshell advocates the re-discovery of childhood and re-connection with nature. It reintroduces the benefits of play and enhancement of motor skills by introducing. the nostalgic activities of yesteryear in a contemporary but natural environment. We have been doing this with ESCAPE Penang and ESCAPE Petaling Jaya, but I can guarantee, it will be quite unlike anything in ESCAPE Cameron Highlands," Sim adds.
About The Author