Malaysia has many Islamic tourism (IT) and Muslim-friendly tourism and hospitality (MFTH) products and packages to boast such as recreational parks and wildlife sanctuaries, in addition to its well-known mosque trails
PUTRAJAYA : Malaysia is ever committed towards the development and promotion of the Islamic tourism (IT) and Muslim-friendly tourism and hospitality (MFTH) niche segments, domestically and abroad.
The Islamic Tourism Centre (ITC), a government agency under the umbrella of the Ministry of Tourism, Arts & Culture Malaysia (MOTAC), is confident that the said ecosystems are sure to be continuously tapped and their target markets engaged and connected to ensure the lucrative potentials are realised.
Dato' Dr. Mohmed Razip Haji Hasan, Director-General of ITC, supports the proposition that the Muslim travel market has all the potentials to be the next big thing
The Director-General of ITC, Dato' Dr. Mohmed Razip Haji Hasan, in an online webinar held today, shared: "Where ITC's roles and responsibilities are concerned, one of them is conducting research, monitoring and obtaining intelligence on the Muslim travel market in order for us to be able to formulate our strategies." We call upon our fellow researchers in this field to contribute their findings to be part of ITC Annual Islamic Tourism Journal (ITJ) so that it can be translated into best practices in this industry."
Entitled "An Overview of Muslim-friendly Tourism and Hospitality in Malaysia", the talk, which kicked off at 8.45 a.m., is an initiative organised by Ibrahim Sultan Polytechnic (PIS), Johor. However, it was more than just a mere overview, as the name suggests, as it laid great focus on topics such as Halal, Shariah compliance and MFTH matters as a whole.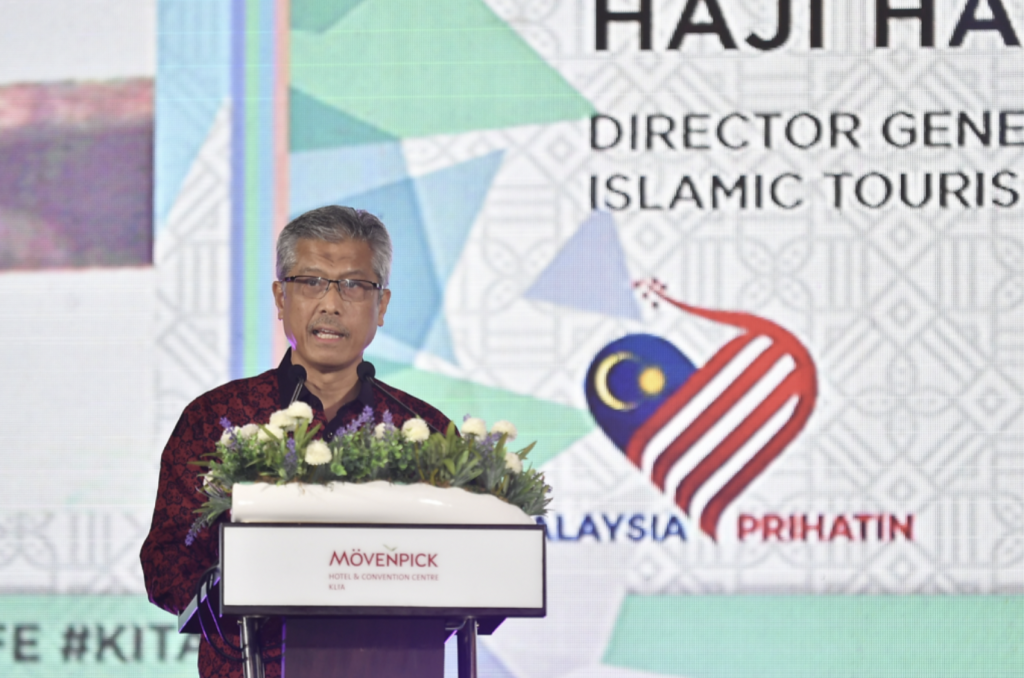 Dato' Dr. Mohmed Razip, who was one of four guest speakers at the event, further emphasised that the Muslim market is not limited to Middle East region geographically
"One of the advantages of this market is that it is so geographically dispersed. Yes, there is a predominantly Muslim population in Middle East and North Africa (MENA) region, but there are Muslims in other parts of the world as well," he posited.
"There are Muslims in China, Europe, Central Asia and Southeast Asia. In fact, there are 230 million Muslims in ASEAN member states alone, demonstrating the Muslim tourist market potential."
"Thus, the beauty of this market is that a destination is not overly dependent on a particular country or region for its source of Muslim tourists," he further added.
He also shed light on ITC's role in the National Tourism Policy (NTP) 2020-2030, which Muslim-friendly tourism was given important weight signifying the importance of this segment of tourism. "ITC is the lead agency in the area of Muslim-friendly tourism and its role will expand flowing from this development," he said.
"We cannot deny the fact that tourists, it is in their nature to invest themselves in activities like eating and drinking, entertainment, shopping, travelling and the like, be it Muslim or non-Muslim tourists. However, for Muslim-friendly travel, they ask for their faith-needs facilities and services."
On the perks that Malaysia has to offer, which makes it the top Muslim-friendly destination, Dato' Dr. Mohmed Razip noted that these features range from Muslim-friendly hotels, availability of Halal food, provision of prayer facilities, family-friendly entertainment, safety and security and many more. The first of its kind in the world, ITC introduced a Muslim-friendly Accommodation recognition (MFAR) to cater for Muslim travellers both locals and from overseas.
To date, there are more than 40 hotels who have participated in MFAR and they range from local hotel chains such as The Light, The Pearl, Aldiya, Sunway Hotels, to international brands like DoubleTree by Hilton, Movenpick, Pullman and Amari.
Other panellists in the webinar were Encik Amri Abdullah of Malaysia's Halal Industry Expert; Encik Zakaria Ismail, Manager of Perdana Kuala Lumpur City Centre; and Mr. Muhammad Azhari Johari, Quality & Shariah Compliance Executive at Perdana Kuala Lumpur City Centre. The event was officially closed by Puan Hajah Normala Abdullah, Deputy Academic Director of PIS.
About The Author