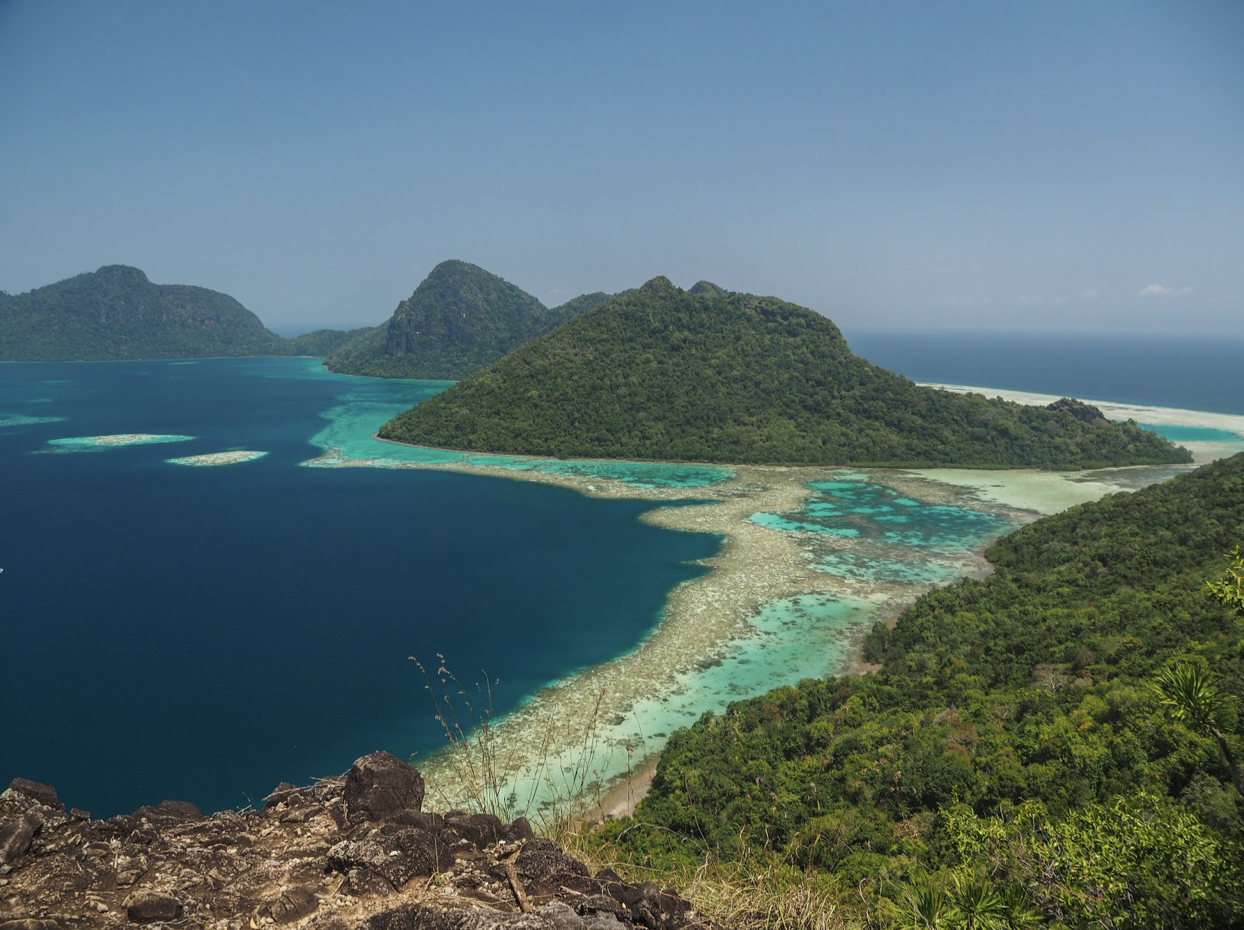 KOTA KINABALU, SABAH, MALAYSIA, 12 APRIL 2022: The announcement of the Malaysian border reopening on 1 April signalled a new chapter for tourism industry players. As part of tourism industry preparations to restart tourism, Islamic Tourism Centre (ITC) took the opportunity to explore the potential of Sabah as a destination for the Muslim tourist market.
Pre-pandemic, Sabah's tourism industry was thriving, with international tourist arrivals reaching 1.47 million out of the total 4.19 million in 2019. Tourism was the state's third biggest income generating industry, supporting more than 80,000 jobs, according to Sabah Tourism Board in 2021. While the Covid-19 pandemic did leave an impact on tourism in Sabah, the resilient industry is expected to make a comeback following the recent reopening of the Malaysian border.
To capitalise on this development, local tourism industry stakeholders may wish to look into diversifying their products and services to attract lucrative travel markets, like the Muslim tourist market. The Muslim tourist market was a steadily growing market before the Covid-19 pandemic hit, with 200.3 million Muslim travellers globally, spending USD194 billion on the travel and tourism industry in 2019. Now that the industry is restarting again, the Muslim-friendly sector can be expected to pick up.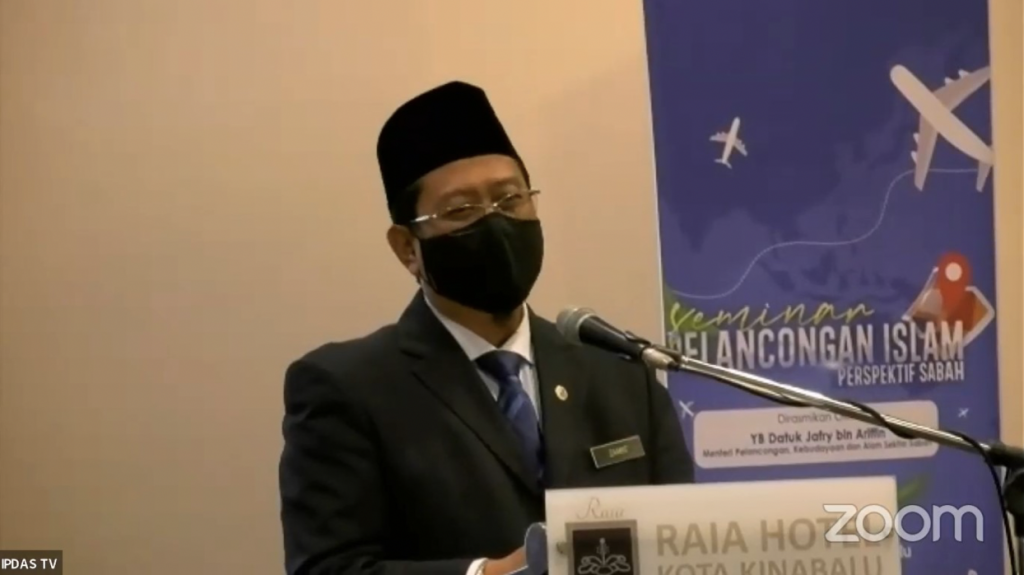 At a recent seminar jointly organised by Institut Pengajian Islam dan Dakwah Sabah (IPDAS) and ITC, "Seminar Pelancongan Islam: Perspektif Sabah", to discuss the potentials of Sabah as a Muslim-friendly travel destination, Tuan Haji Muhammad Zamri Muhamed Shapek, Director of IPDAS said in his welcome remarks, that there is a misconception about the Middle-Eastern market, the highest spending Muslim market per capita, being only interested in visiting luxurious malls during their holidays.
He claimed that this is not true, especially for the millennial Middle-Eastern market that is characterised to be adventure-seeking with a preference for ecotourism activities, something Sabah is famous for.
Being a geographically-diverse state, Sabah has some key natural attractions including Mount Kinabalu, the highest mountain in Southeast Asia, and the pristine islands in Semporna. These lend to Sabah's appeal as an ecotourism destination making positive environmental and social impacts.
"Sabah's nature conservation practices have always been exemplary. Not only is it aligned with the United Nations Sustainable Development Goals (SDGs), sustainability and environment protection are an important aspect of Islam that ultimately benefits the tourism industry," said ITC Director-General, Dato' Dr. Mohmed Razip Haji Hasan in his keynote address.
He also pointed out that the Muslim market is geographically diverse and does not exclusively refer to the Middle-Eastern market alone. "The scope is broad and it includes the Asean region with its estimated 255 million Muslim residents," he added.
This is where Sabah has a geographical advantage. It is directly accessible by potential visitors from different parts of the world. Residents of neighbouring country, Singapore, can take direct flights to Kota Kinabalu International Airport (KKIA) without having to stop at the Kuala Lumpur International Airport (KLIA). Meanwhile, the people of Brunei and Kalimantan, Indonesia, can even enter the state by land.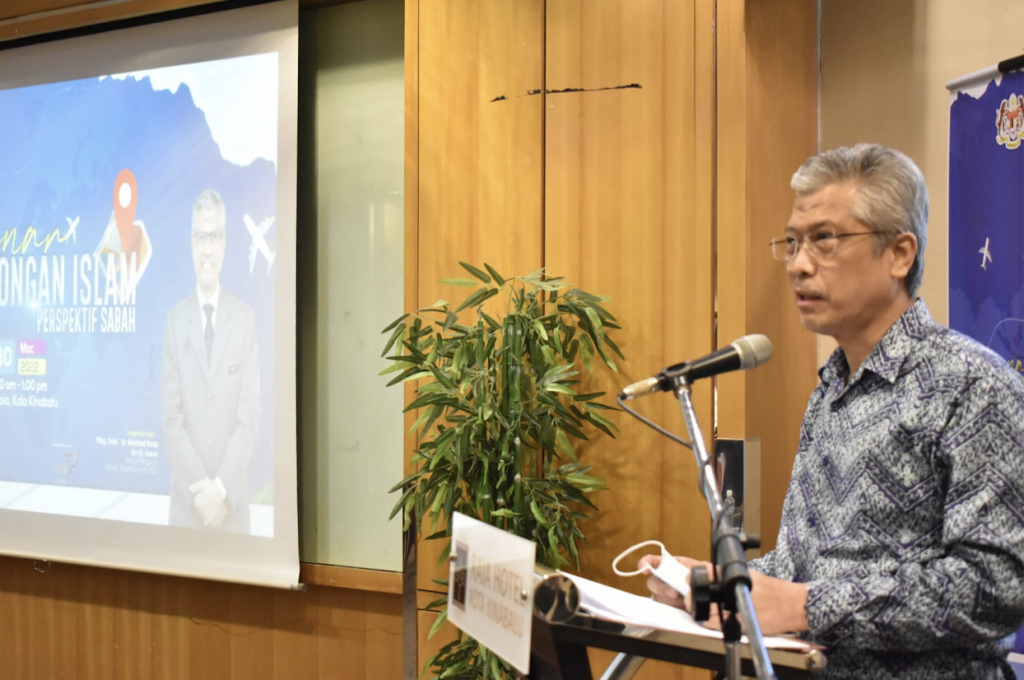 Ease of travel aside, Sabah's unique population and history are elements that hold special appeal to global travellers, offering a glimpse into Islam in Borneo. Associate Professor Dr. Berhanuddin Abdullah, Deputy Director of Academic Quality at the Academic Quality and e-Learning Centre (AQeL), Universiti Sultan Zainal Abidin (UniSZA) during his presentation "Geografi Sejarah Islam di Malaysia: Potensi untuk Pelancongan Islam di Malaysia" "(The Geography of Islamic History in Malaysia: Islamic Tourism Potentials in Malaysia)" informed that the geographical location of a destination has a lot of influence on its civilisation. While there is one Islam, Sabah has its own unique architecture, community, customs and history that cannot be found in other Muslim populated destinations. The Kota Kinabalu City Mosque, for example, is a hotspot favoured by visitors from Japan and Korea.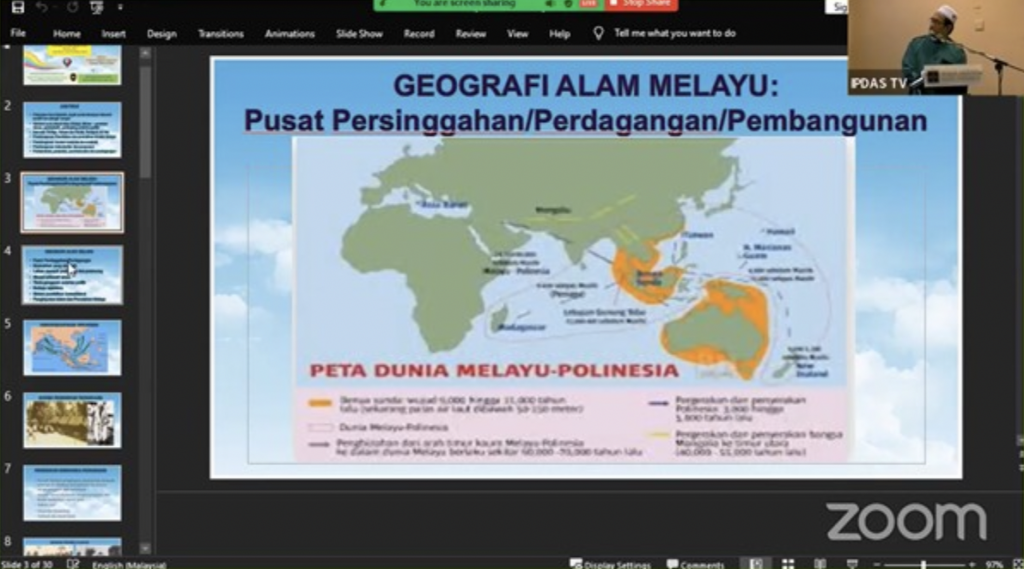 Dr. Tini Maizura Mohtar from Universiti Malaysia Sabah supported this statement in her session, "Hospitaliti Islam, Cabaran di Malaysia" (Islamic Hospitality, Its Challenges in Malaysia)". She said that activities that involve tourists trying on local garments and delicacies help to nurture respect between travellers and the host Muslim community. This is easily achievable in Sabah, home to over 30 indigenous groups, each with its own century-old customs and traditions.
Other key takeaways from the seminar are as follows:
Islamic Tourism is no different from conventional tourism. People of all religions and races mainly travel to experience new things or to escape from their daily life routines. However, Islamic Tourism is undertaken in a way that Muslims are able to fulfill their faith-based needs. The most important faith-based needs would be halal food, prayer facilities and water for cleaning up and ablution, all three are widely available in Malaysia, including Sabah.
Islamic Tourism is an ecosystem in which the Muslim-friendly Tourism and Hospitality (MFTH) sector and Halal tourism exist in. MFTH is the branding that ITC encourages Malaysia's tourism industry players to use as a marketing tool to promote Islamic Tourism.
With 1.8 billion global Muslim population, 1.1 billion in the Organisation of Islamic Cooperation (OIC) member countries, and 350 million in other countries across continents, the Muslim market is huge and is only expected to grow.
Malaysia ranks number one in the Muslim-friendly sector in the State of Global Islamic Economy (SGIE) Report by DinarStandard since 2014 and in the Global Muslim Travel Index (GMTI) by CrescentRating since 2015.
Post-pandemic, travellers are becoming more cautious about their health and safety. They need standards as an assurance for safe travels, which is why ITC's Muslim-Friendly Accommodation Recognition (MFAR) and Muslim-Friendly Tourist Guide (MFTG) are becoming increasingly important. The hotels and tourist guides involved are recognised by ITC as capable of dealing with Muslim tourists' travel requirements.
Currently, there are 53 MFAR recognised hotels nationwide, two of them located in Sabah. There are also 62 MFTGs in Malaysia, one is based in Sabah.
No doubt, Islamic Tourism is gaining momentum and interest. Even destinations without a Muslim-majority population such as Australia, China, Japan, Singapore, South Korea and Taiwan among others, see the potential and have ventured into Islamic Tourism. The situation requires leaders to be visionary and take advantage of the strong market demand for Muslim products and services.
In line with this, the upcoming launch of IPDAS' Diploma in Islamic Tourism programme (Diploma Pelancongan Islam) is welcome news. ITC fully supports this venture as a way to nurture future leaders in the Islamic Tourism space.
The "Seminar Pelancongan Islam: Perspektif Sabah" is part of ITC's 8th SEED (Share, Enrich, Enhance, Develop) Session aimed at delivering the latest information on a variety of contemporary topics from an Islamic perspective. A total of 50 tourism industry players including policymakers, hoteliers, tourist guides and academicians were invited to physically attend the half-day programme. Jointly organised with IPDAS and held at Raia Hotel Kota Kinabalu, it was launched by the Director General of ITC, Dato' Dr. Mohmed Razip Haji Hasan. The seminar was also broadcast live on ITC and IPDAS' respective official Facebook pages.
About The Author