Genting Highlands, 20th June 2019-Around the world, Wednesday is known as Hump Day a day of joy because it is past the middle of the week and the weekend is in sight. For those visiting Resorts World Genting over the next four months, there will also be another reason to celebrate Wednesdays, as the Jazzy Wednesday campaign give all visitors a chance to win a brand new Honda Jazz.)
Jazzy Wednesdays kicks off at Resorts World Genting on 26 June 2019 with the first draw on 3 July 2019, lasting through 30 October 2019, when over 85 participating outlets begin offering amazing discounts and promotions as part of the event. With nearly 250 F&B outlets and retail shops across SkyAvenue, First World Plaza and Awana SkyCentral taking part, there will be plenty of opportunities for guests to spend their way toward winning a Honda Jazz every Wednesday for 18 weeks. As a tantalising teaser, the 18 Honda Jazz cars will be on full display as well, at prime locations in First World Hotel and SkyAvenue.) (Participation is easy. From midnight 26 June 2019 to 4pm 30 October 2019, visitors holding a valid Genting Rewards card who earn 1 Genting Point in…
The Jazzy Wednesday campaign starts its engines across Resorts World Genting on 26 June 2019 with the first draw on 3 July 2019, ending on 30 October 2019. For a full list of participating outlets or more details, please visit www.rwgenting.com or call +603-2718 1118.
With daily shows at 8pm except for Sunday at 4pm from 25 May to 10 November 2019 and from 19 November 2019 to 24 may 2020 (with an additional 4pm matinee on Saturdays), the variety show promises to be a rollercoaster ride of jaw-dropping stunts and spectacular feats. IMGINATRICKS brings together some of the world's best acrobats, athletes and performers in a visual and musical party that is sure to captive the eyes, mind and hearts of Resort World Genting guest.
"Whilst Resort World Genting is well known for the plethora of artistes that we host up here, we are bringing something entirely different to the table this time around with IMAGINATRICKS who push the limits of human limitations. Award-winning performers will be bringing to the table a combination of skills including dance, comedy, stunts, acrobatics and skating. The show will be a welcome addition to our vibrant resort for visitors to experience their level of skill in person for a truly incredible, one-of-a-kind experience," says Kevin Tann, Vice President of events & Entertainment, Resorts World Genting.
From the sultry continent of Latin America comes a death-defying performance. Hailing from Colombia, the award-winning acrobatics Gerlings troupe brings miracles high above the stage with an amazing Highwire act. Twelve members of troupe will take to the sky high above the Genting International Showroom stage, preparing to performs feats like running, dancing, jumping, rope skipping, bicycle riding, chair balancing or the most astounding of all a balancing human pyramid on nothing by a thin wire. It will be breath-taking, it will be startling and it will be astonishing to see what the acrobats of the Gerlings can do which is a testament to the limits of human physical achievement, willpower and imagination.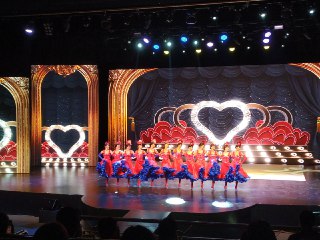 And finally, audiences should continue to look up as The Gerlings regroup with their Wheel of Suspense show to IMAGINATRICKS. Four members of The Gerlings will risk their lives to showcase impossible features on a rolling double-wheel contraption called the Wheel of Suspense, balancing themselves precariously on rotating thin strips of metals while performing jumps, cartwheels, somersaults, handstands and more. It is an act that has won The Gerlings gold medals at the Monte Carlo International Circus Festival and the Wujiao International Circus Festival in 2017 (among many other awards), and the perfect cap off to an amazing night.
Tickets for IMAGINATRICKS are now on sale. The stage production will run over 360 shows of 75 minutes each from 25 May 2019 to 24 May 2020. Tickets are priced at RM196 (Preferred), RM 146 (PS1) and RM96 (Gallery). An additional processing fee of RM4.00 applies. GRC (Genting Rewards Card) members enjoy a standard 10 % discount via cash, credit card or Genting Points redemption. Resorts World Genting is also offering special IMAGINATRICKS room packages. For First World Hotel, the package for a Standard room is priced at RM339 on weekdays and RM371 on weekends, including 2XPS1 tickets for the show. For the Theme Park hotel, the IMAGINATRICKS packages are priced at RM549 for a King room (including 2XPS1 tickets), RM877 for a Quads room (including 4XPS1 tickets) RM1,142 for a Sixers room (including www.rwgenting.com or call +603 2718 1118. and 6XPS1 tickets). For more information, visit
About The Author